The Premier League title may already be decided, but there's plenty of drama elsewhere in the table. Below, we examine the biggest takeaways from this weekend's slate of matches.
Chelsea's defense needs an upgrade
As Chelsea continue to load up on attacking talent, Saturday's 3-0 hammering at the hands of Sheffield United was a stark reminder that the Blues lack the necessary pieces in defense to mount a serious challenge and achieve sustained success. That shouldn't come as a surprise, either. For all the exciting, entertaining play going forward – and there's been plenty of it – frailty at the back has been an issue all season long.
A revolving door of central defenders has hardly helped foster stability at such a crucial position; that all four of Chelsea's center-backs have made at least 15 Premier League appearances this season says it all. Frank Lampard still doesn't know his best pairing, and the campaign is just about over.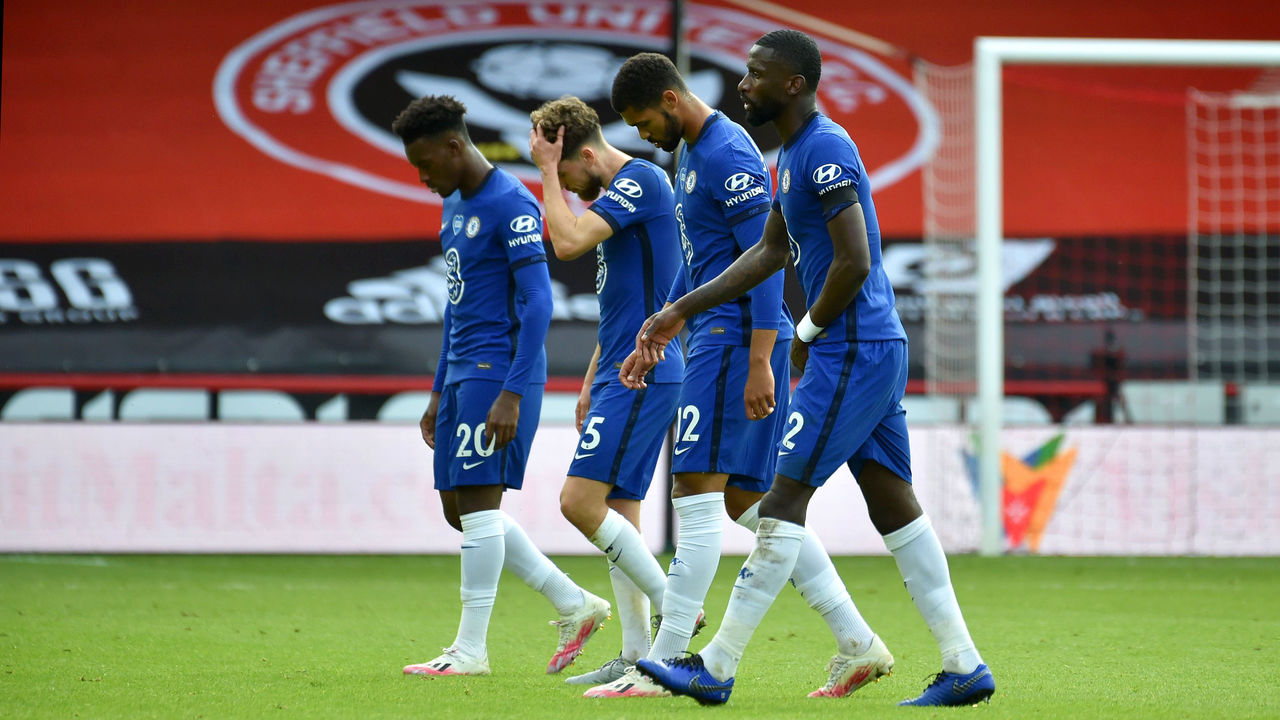 But being a good defensive team isn't all about having talented defenders; unless you're talking about buying Virgil van Dijk, it's unlikely one man will come in and single-handedly fix everything. Perhaps, then, the onus is on Lampard to concoct a defensive scheme that makes Chelsea more difficult to break down. A new goalkeeper might help a little, too.
The west London outfit has conceded 49 goals in the league this season, the most of any side in the top half the table; no other club in the top four has surrendered more than 34 on the campaign.
Yes, they can be intoxicating to watch going in the other direction. Adding Timo Werner and Hakim Ziyech – and potentially Kai Havertz – will make them almost unstoppable up front. But until they sort out the defense, Chelsea won't return to the heights of previous title-winning sides.
A funny old game
Raheem Sterling bagged a treble in Saturday's 5-0 dismantling of Brighton & Hove Albion. That's not surprising: The Englishman is putting together a splendid campaign and will almost certainly finish as Manchester City's top scorer of the season.
But what is entertaining is the way he scored his third at The Amex, with the ball bouncing off his head a handful of times before somehow nestling between the legs of the goalkeeper and into the net.
It's comforting to know that even a team like City, who have scored 91 league goals this season and played some truly breathtaking football, can look like a slapstick comedy routine from time to time.
Arsenal's defensive frailties laid bare
Mikel Arteta can only do so much to change Arsenal's fortunes.
After a string of solid performances, the Gunners reverted to their old selves, allowing two avoidable goals in Sunday's 2-1 defeat to Tottenham Hotspur. It was Arsenal's first defeat in six matches and a reminder of the defensive woes that plagued them at the start of the season.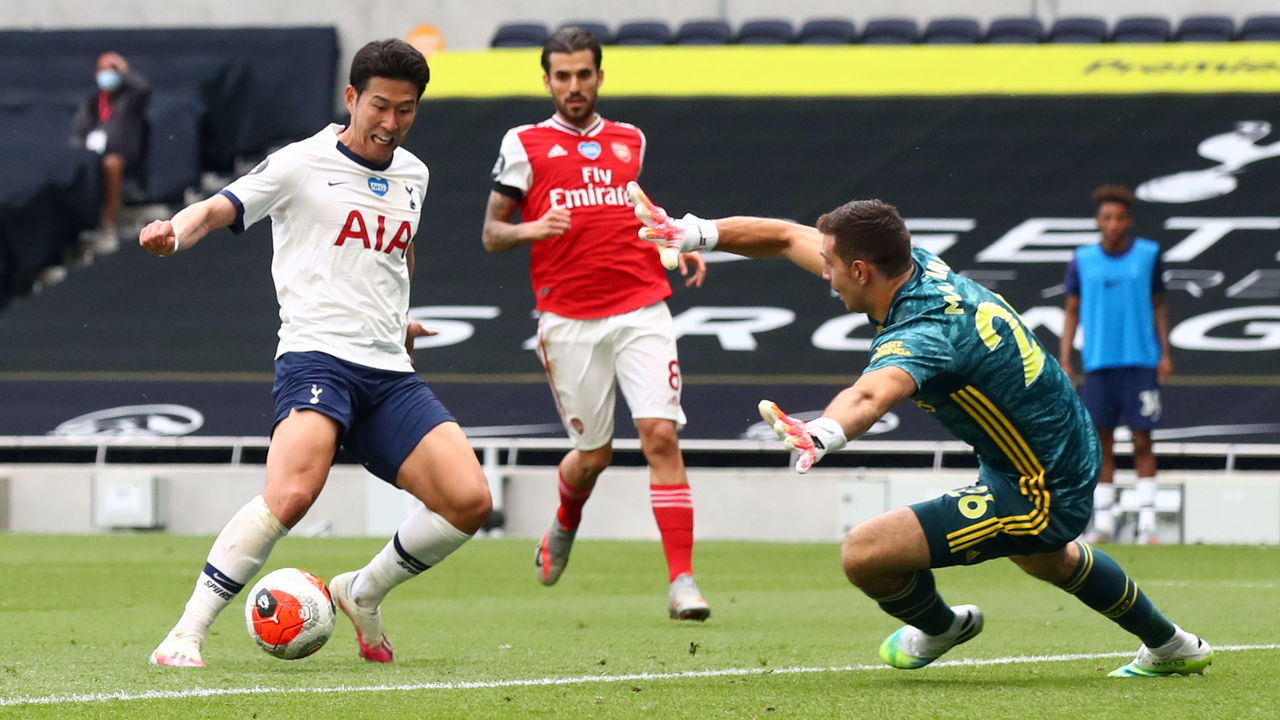 Arteta's switch to a back three brought some much-needed security to the backline and yielded early results – particularly in a 2-0 win over European rivals Wolverhampton Wanderers on July 4 – but it all fell apart against Spurs. Heung-Min Son feasted on Sead Kolasinac's wayward pass, canceling out Alexandre Lacazette's ferocious opener, and Toby Alderweireld exposed Arsenal's poor man-marking abilities with a header in the 81st minute.
The Gunners have now lost 21 points from winning positions in the Premier League this season. Only West Ham have surrendered more.
Arteta clearly needs more trustworthy defenders if he wants any consistent run of results. It's difficult to build confidence when a makeshift center-back like Kolasinac is actively hurting the team. It's even harder when Shkodran Mustafi loses his man time and again. Harry Kane burned Mustafi on several occasions, with the German missing one of his tackles by a few yards.
Despite the tide of misfortune, Arsenal managed to play some decent football, controlling more than 60% of possession. But they still conceded nine shots on target to a Spurs side that didn't register a single one against relegation-threatened Bournemouth just a few days prior.
Leicester's free fall continues
The biggest shock of the weekend came at the Vitality Stadium, where Leicester City capitulated to a Bournemouth side that seemed destined for the drop. The Cherries looked dead and buried at half-time, registering just one shot through the first 45 minutes, but they somehow scored four goals in the second half for a 4-1 comeback win.
Something is truly wrong with the Foxes. They've have collected just 14 points from their last 14 matches, looking nothing like the team that kept pace with Liverpool in the early stages of the season. A combination of injuries hasn't helped – James Maddison, Ben Chilwell, and Ricardo Pereira have all missed time – but it's not a sufficient excuse for the monthslong malaise.
It doesn't get any easier, either. Leicester's remaining fixtures are against Sheffield United, Tottenham, and Manchester United, raising doubts that Brendan Rodgers' side will even finish in a European place. Leicester remain in fourth, but United have a game in hand and could leapfrog their rivals with a win over Southampton on Monday.
| # | | GP | GD | Pts |
| --- | --- | --- | --- | --- |
| 3 | Chelsea | 35 | 14 | 60 |
| 4 | Leicester City | 35 | 29 | 59 |
| 5 | Manchester United | 34 | 26 | 58 |
| 6 | Wolverhampton | 35 | 11 | 55 |
| 7 | Sheffield United | 35 | 5 | 54 |
At least there's still some excitement left in the Premier League season.